Table Top Thickness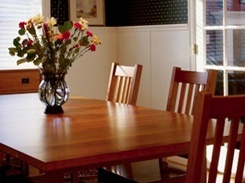 A Guide to Choosing Table Top Thickness - Thick, Thin, or In Between?
Table top thickness is rarely discussed, yet has a big impact on character. A well-made table top will last you a lifetime, so you want to be informed when shopping for a custom top. Factors influencing table top thickness include style of decor, scale of the table in relation to room size, length and width of table top, and the size of the table legs.
What style suits you?
Decorating style overrides all other factors in determining table top thickness. Primitive furniture from the past was made close to home from the least expensive local materials. Primitive table tops were usually made from thinner materials, had simple edge details, and reflected the economics of the end user.
Rustic furniture is what one most often associates with camp or lodge furnishings. Rustic furniture runs to the thick, heavy, and masculine look. Think of this style as what you'd find in an Adirondack or western mountain lodge. The tabletops in a rustic style run thicker.
Traditional furniture in America tends to be more refined. For this reason, traditionally styled tables tend to have thinner, more refined tabletops. History shows that 90% of the antique table tops in North America were in the 13/16" range. There were many contributing factors: Rooms were smaller, people were smaller and tables were often made light for portability. So the proportions were, historically, more delicate.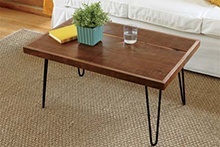 Modern furniture is all over the place in thickness. Some modern tables are very light looking. Other modern styles can feature a massive slab table top above minimalist hairpin (LINK) table legs. Obviously, this style of table demands a thicker table top!
Minimalist hairpin table legs keep the focus on the thick table top.
Scale and room size
Consider the scale of the table and the room into which this tabletop will be placed. Oversize furniture has bigger proportions, and top thickness may be increased for visual balance. As you travel through your day, be aware of the top thicknesses around you. A mere ⅛" difference in top thickness makes a big difference in the 'visual heft' of a table top.
Use a tape measure to compare the top thicknesses of your existing furniture. Do you like the lighter look of a ¾" table top, a slightly heavier look of a 1" table top or are you trying to achieve a more kitchen counter-like thickness of 1¼?
Tabletop dimension and table leg thickness
Two more variables can influence top thickness. One is the dimension of the finished tabletop, and the other is the width of the legs on the table base. A table 'looks right' when there is visual harmony between the parts. As top size and leg thickness get bigger, top thickness can get bigger too. And as tables get smaller and legs get thinner, table tops can get thinner and still look great.
Three-quarter inch table tops
Again, stylistic considerations aside, generally speaking if your planned table top is smaller than approximately three feet wide by six feet long, go with the ¾" top. And, if the legs are less than 3½" thick at the top post or less, go with the ¾" top.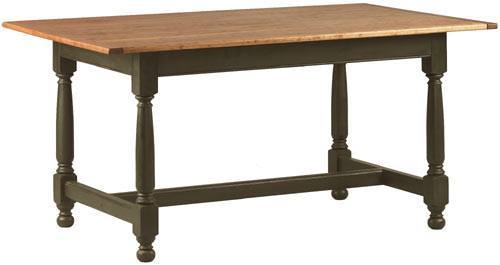 This Tavern table nicely illustrates scale, balance and proportion for a 13/16" tabletop. Top size ¾" x 36" x 72".

LD-ENGT-29-S1 English Tavern Leg, width 2 ¾.

One-inch thick tops
As noted above, when you plan larger furniture for larger spaces, your tabletop thickness can be increased as well. Leg sizes above 3 ½", table top sizes greater than 36" wide, or greater than 76" in length, can provide visual balance for thicker tops. A 1" top thickness is very adequate for a 3½" to 4" thick table leg.
Bigger tables get thicker tops. 1" x 40" x 82". Pine table top with chamfered edge detail, mounted to a base featuring LD-FARM-29 Farmhouse Dining legs at 3 ½" width.
One and a quarter inch tops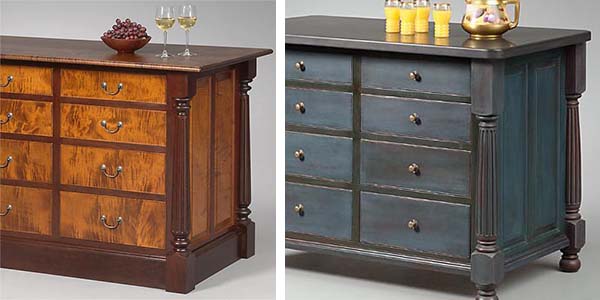 For tables with legs more than 4" thick, consider a 1¼" table top. The increased thickness will give you visual balance in relation to the larger table legs.
For kitchen and bath counters, the industry standard is 1 ¼". This thickness gives good balance in relation to the case work. Specify that same thickness when using wood for these countertop applications. An exception would be a 'furniture style' kitchen island, wherein you might actually further the furniture concept by going back to a thinner, ¾" to 1 "countertop.
Compare the tops on these eight-drawer kitchen islands. The blue painted island(LK-FARM-36-S1 leg) is more country style with humble milk paint, simple knobs and a thicker
1 ¼" countertop. The tiger maple island (CM-HARV-36 Harvest column) is much more high style with its mahoganized case, fine bail pulls and much thinner ¾" top featuring a quirk bead edge detail.
Quick Guide to Table Top Thickness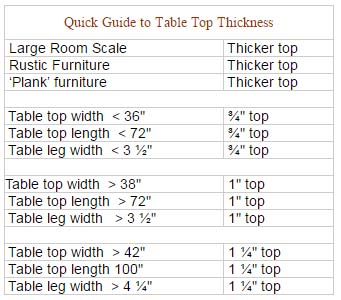 Summary
These are general guidelines on table top thickness. You can design your own table top here. Buying a custom wood table top is about getting exactly what you want. It's also about knowing that someone took the time to craft something especially for you. Hopefully this article on table top thickness helps you along your way!
Square, Round and Rectangular Tabletops
Solid wood table tops. Design your own table top. 6 wood types, 7 edge details, and 3 top thicknesses. Made to order at our Vermont shop.
Tags