How to Apply Monocoat Finish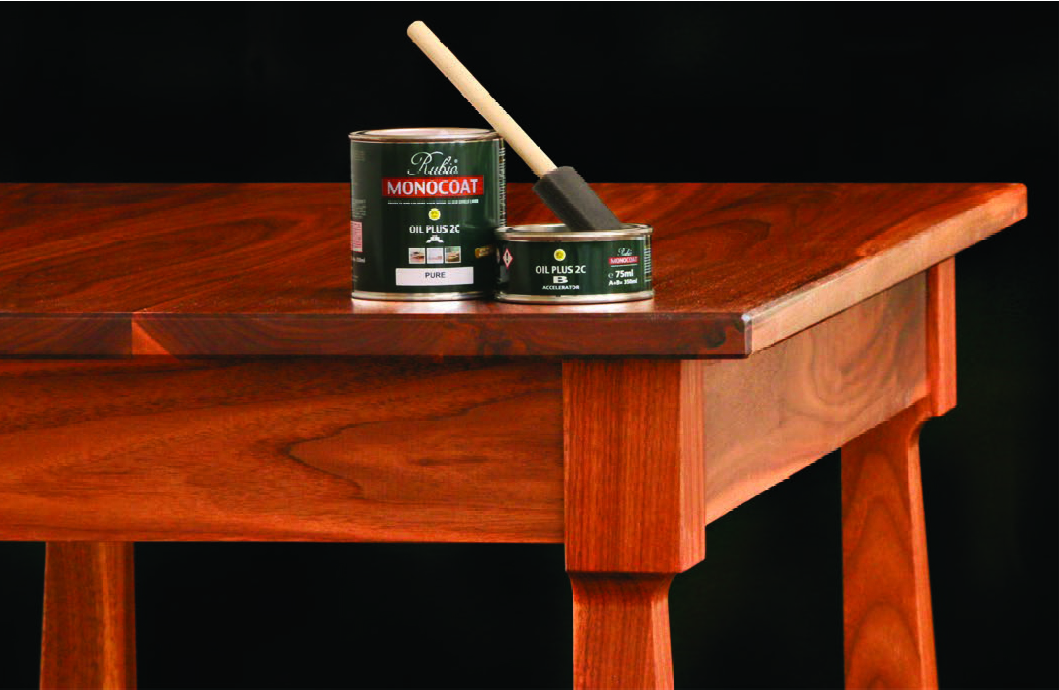 Rubio Monocoat is the woodworkers' finish of choice. It is quick to dry, easy to apply, easy to maintain and non-toxic. Monocoat enhances the natural beauty of the wood without drastically altering the tone. Unlike other wood finish, it is free of strong odors and made from renewable plant-based oils. Experts agree this premium wood finish is worth every penny. At TableLegs.com, we only finish our products with Monocoat. If you would like to learn how to apply Monocoat yourself, just follow this simple guide.
Getting Ready
You'll need:
Protective gloves and eye-wear

Clean bucket or plastic container

Foam paint brush applicator

Shop towels

Vacuum cleaner

Sandpaper (optional)
Always start with clean, unfinished wood. Unfinished parts from TableLegs.com are pre-sanded with 180 grit. If you have your own finished surface on which you would like to apply Monocoat, remove the finish completely with 120 grit sandpaper before applying Monocoat. Depending on the requirements of your project, it may be necessary to sand with finer grit sandpaper before beginning application.
Mixing Monocoat
Monocoat is made up of two main components. The correct ratio for Monocoat is 3 parts A (oil) to 1 part B (accelerator). If you use the entire content of both cans, it's already the correct 3:1 ratio.
To determine how much oil you will need, use the following guidelines:
Hardwoods: 350 mL will cover up to 175 sq ft.; 1.3L will cover up to 650 sq ft.

Softwoods: 350 mL will cover up to 140 sq ft.; 1.3L will cover up to 520 sq ft.

Douglas fir and reclaimed woods: 350 mL will cover up to 80 sq ft.; 1.3L will cover up to 290 sq ft.
Step 1. Put on protective gloves and eye-wear.
Step 2. Pour 3 parts of A (oil) into the plastic container.
Step 3. Add 1 part of B (accelerator).
Step 4. Stir until well blended.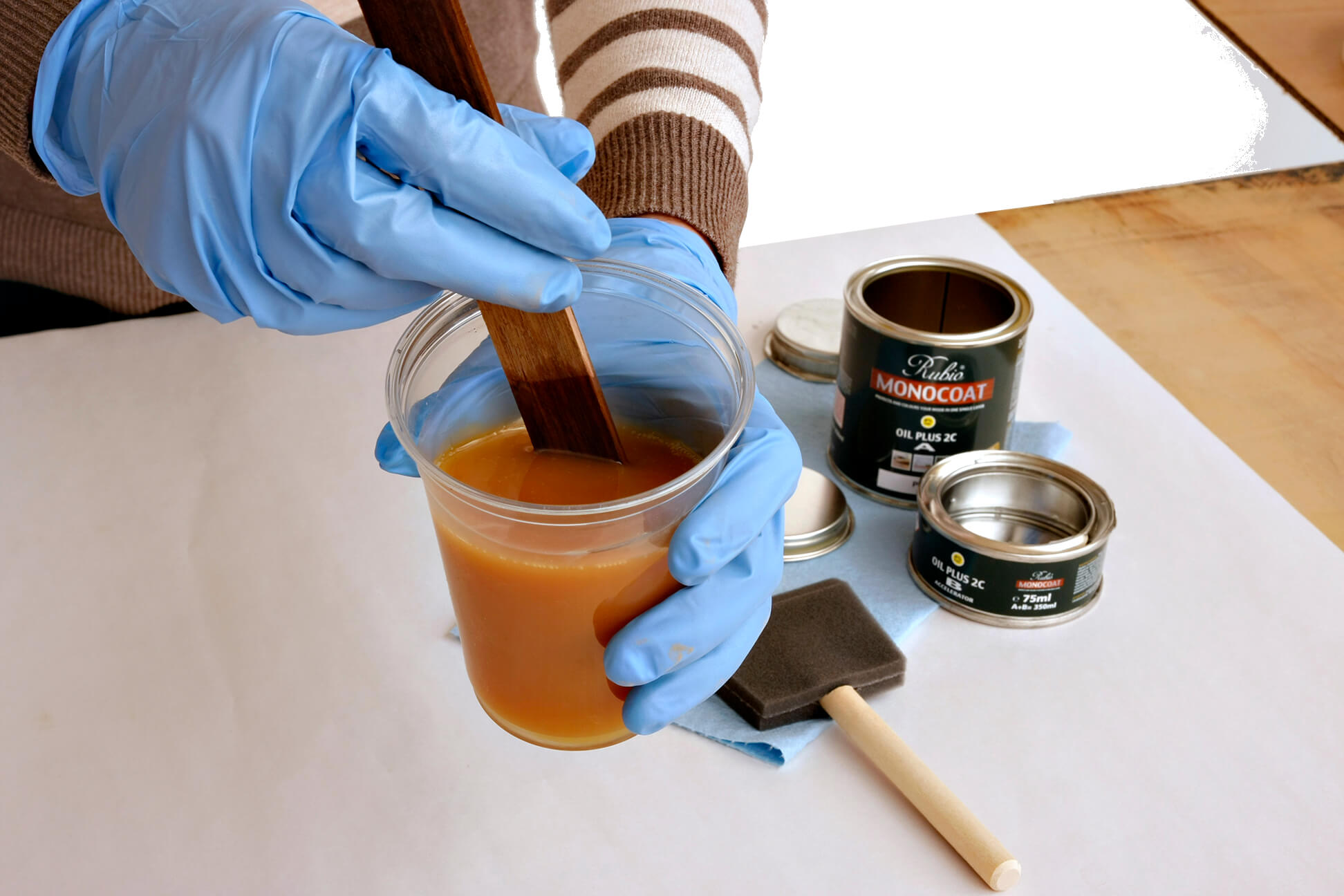 Be sure to use your Monocoat within 5 to 6 hours after opening. You can use the mixed solution for a couple days if it is stored in an airtight container in a cool location. The mixed oil will get darker and thicker in the can but it will not discolor the wood.
Applying Monocoat

Monocoat attaches directly to wood fiber. When applying Monocoat, remember that a little goes a long way. Use just enough to wet the surface. Work in a well-lit area. For two sided items such as tabletops, apply to the underside first.
Step 1. Vacuum and clean the entire surface thoroughly.
Step 2. With the foam paint brush applicator, apply the Monocoat mixture liberally to the clean sanded wood surface. For large, flat pieces such as tabletops, you may pour the mixture directly on the surface and work it into the wood with a shop towel. Always work along the wood grain.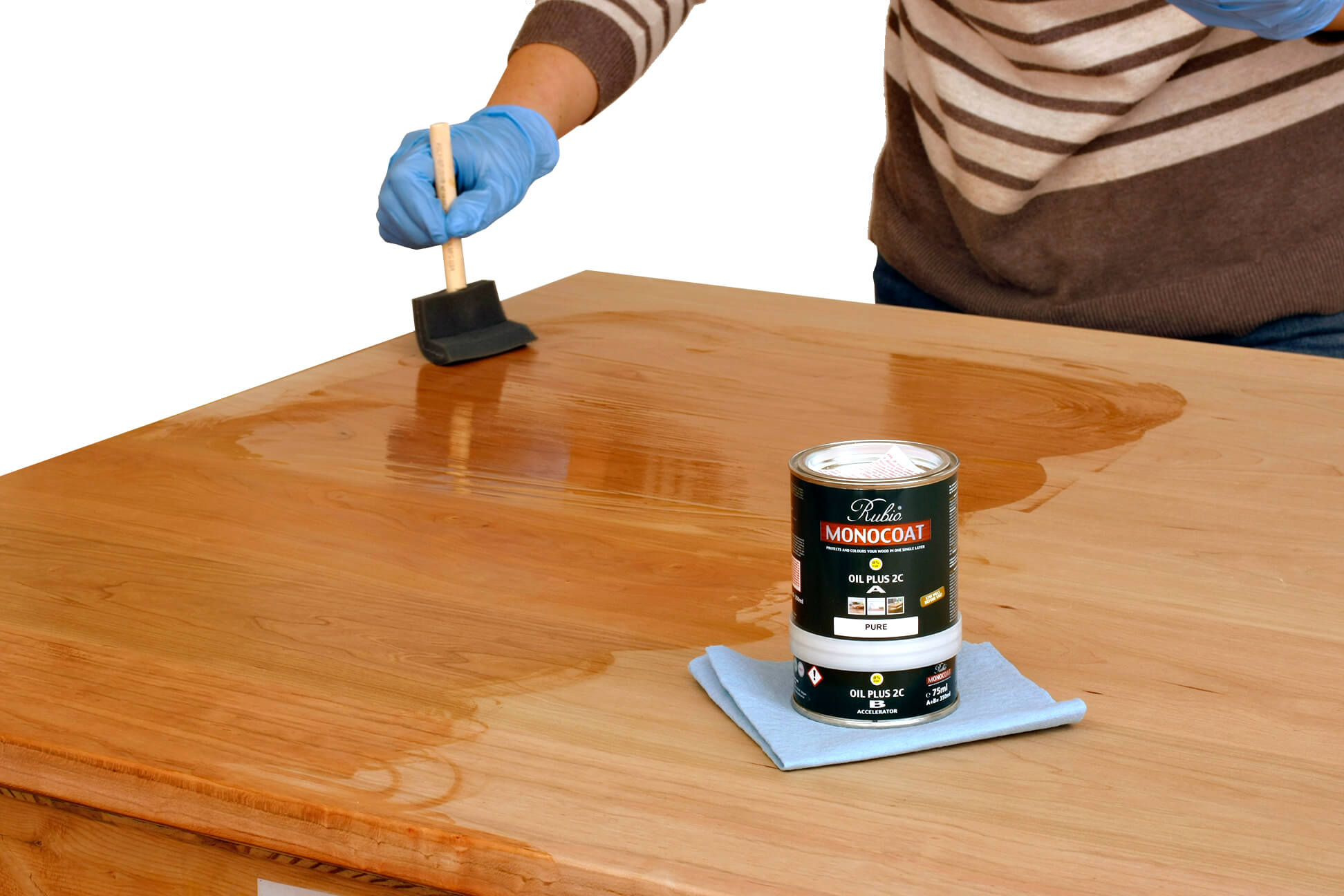 Step 3. After coating the entire surface, let stand for 10 minutes.
Step 4. Remove any excess oil with a cotton shop towels. Change the shop towels if it becomes saturated, and continue until all of the excess oil is removed.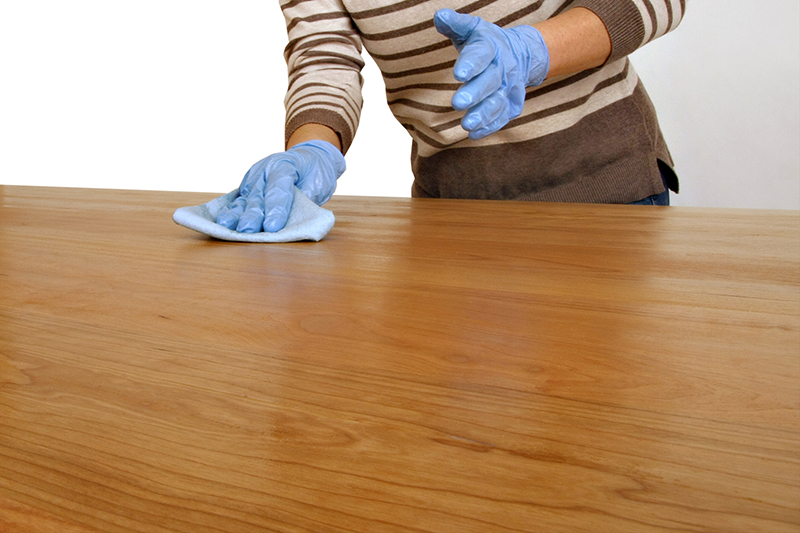 Step 5. Allow two hours before turning the newly finished side onto a clean, dry surface. Repeat the process to apply oil to the other side.
WARNING: Oil-saturated towels can spontaneously combust. You must place all used shop towels in water, or keep in a lidded, sealed metal container.
Second Application
As the name implies, Monocoat is designed to be a single-coat finish. At TableLegs.com, we recommend a light second application. Doing this extra step yields the best looking, most durable finish possible. Be sure to wait 24 hours before applying the second coat.
Step 1. Sand the entire surface lightly along the wood grain with 300-600 grit sandpaper.
Step 2. Vacuum and clean to remove any dust.
Step 3. Apply a light second application of Monocoat.
Step 4. Wipe off all excess oil, working along the wood grain.
Storage and Maintenance
Fully blended Monocoat can be stored for a few days if kept in an airtight, sealed container in a dark, cool location. It may become a bit chunky, but will still be fine to use. After more than a few days, it will become too thick to use.
After treatment, expect a curing time of 1 week. During this time, keep the surface dry. Once it has finished curing, the finish will be water resistant. Over its lifetime, there may be spotting or light scratches. When this happens, just rub a small amount of oil onto the area, and wipe away the excess.
There are good reasons why we always choose Monocoat over other wood finish. It yields a gorgeous luster, it saves us time, it's highly dependable, and its safe for our family and the environment.
Shop Monocoat Natural Oil Plus 2C here
Or read more about Monocoat here
Bonus: A Word on Stain
We find that wood stain tends to dull the patina and obscure the delicate look of the premium woodgrain. However, if you would still like to use wood stain, we recommend ordering a colored tone of Monocoat from their website. If you have your own wood stain to use, here is what you need to know:
The more solids in the stain coat the more it will inhibit the Monocoat from penetrating into the wood, meaning it won't be as effective.

Additional applications of Monocoat over the stain will help, but it will not be as durable as using the finish alone.


When sanding for a second coat of finish, be sure to sand very lightly so as not to sand through the stain layer.