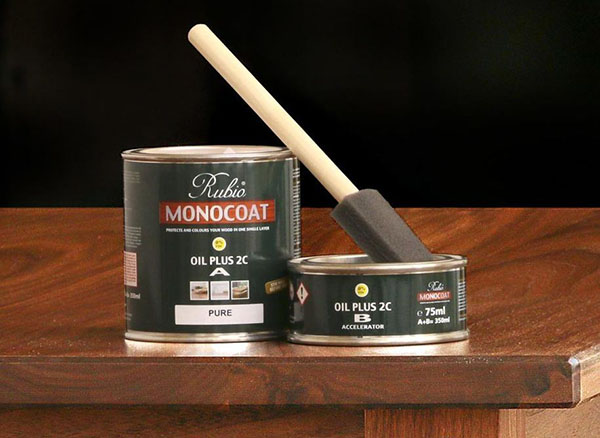 TableLegs.com offers Monocoat as our finish of choice. We will gladly finish any part for you, or you can purchase Monocoat directly from us and apply it yourself with our easy-to-follow guide. Either way, you'll get the best results possible for gleaming, unparalleled furniture.
Our #1 Most Trusted Wood Finish
"For 40 years oil has been my finish of choice. Monocoat is simply the best oil finish ever—and every woodworking friend I've turned on to it agrees." - Matthew Burak, founder of TableLegs.com.
At TableLegs.com, we only use one finish – Rubio Monocoat. We don't have a special sponsorship with Rubio, we simply believe that it is the best finish money can buy.
The other guys will stain low-grade materials to make it look like real wood species. We don't do that. We use only premium wood species, each with its own naturally occurring characteristics. We trust only Monocoat to bring out the pure, natural beauty in each type of wood.
Here's why:
Unbeatable Luster
The look of Monocoat can best be described as a satin matte finish. As a clearcoat, it reveals the unique properties in each wood species. It effectively brings out the warmth and enhances the grain and figuring, revealing the true nature of the wood, rather than hiding it.
Strong Protection and a Finish That Improves with Age
Monocoat's satin finish is long-lasting and highly forgiving. Minor scratches and normal aging only improves the natural beauty of the surface—no plastic or thin coating to chip or wear through. Monocoat resists liquid spills, hot pans, scratches and dents. It is perfect for both outdoor and indoor furniture—for metal, wood or stone. It has the durability we can always count on, rain or shine. With proper maintenance this finish will last a lifetime.
Good for Your Furniture – Good for the Planet
Monocoat is made from renewable plant-based oils. With no strong odor, no toxins, no solvents and 0% VOCs, it affords peace of mind that you can't get with other oil finishes.
Please note:
If you are purchasing a product on which finishing service is not an available option, please call us at 1-800-748-3480 to inquire about pricing for finishing.
The photos below show our woods before and after Monocoat finishing. The photos don't do it justice. To see what it looks like in person, order a sample of any species you are interested in. We'll send you a little block of our premium wood, one side finished and the other unfinished, so you can compare. To order a sample, email legs@tablelegs.com or call 1-800-748-3480.