By Matthew Burak, Founder, TableLegs.com
---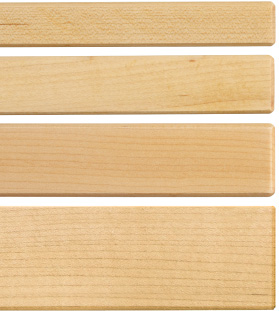 A well-made table will last for generations, so you will want to find the table you can really commit to. An important consideration is determining how thick you want your table top to be. Table top thickness helps define the overall look and feel of the table, along with style, dimensions, and the width of the table legs. Here are thoughts on how to select a well-proportioned table you or your customers will love for years to come.
Know the role of style
Many different styles of furniture have come and gone. And come back again! Some evolved over time while others arose in stark contrast to the preceding period style. To simplify things, we will separate them into three main groups: traditional, contemporary and transitional. Knowing which of these three primary styles you prefer is a good first step to determining the ideal thickness for your table top.
.
We offer table tops in 4 thicknesses from 3/4" to an impressive 1 3/4".
Traditional
These styles feature more intricate detailing and a refined feel. With roots in 18 century England and French countryside, a more delicate look was desired. These styles feature a pleasing contrast of thicks and thins. There were many contributing factors: rooms were smaller, people were smaller and tables were often made light for portability. Approximately 90% of antique table tops in North America are under 1" thick. Traditional tavern and pub tables are exceptions. They can accommodate thicker tops to better withstand rougher handling and bolder proportions. Some great leg choices for a traditional style are Federal, Hepplewhite, Cabriole, and Sheraton. See Colonial + Traditional for a complete list.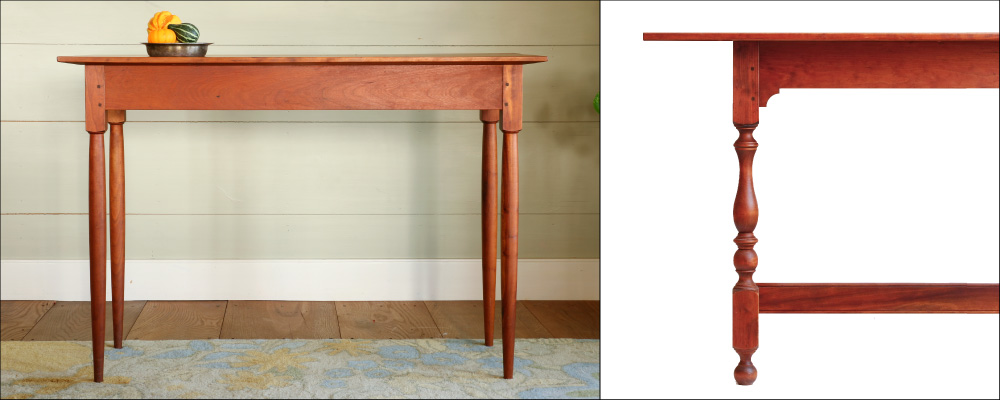 Traditional tables prefer thinner tops — generally an inch or less.
Contemporary
These styles encompass a broad range of looks, typically featuring either clean, straight lines or organic curving forms. These styles emphasize simple, smooth, sleek profiles. Table top thickness varies greatly with contemporary styles.Some will prefer an extra thick 1 3/4" thick table top on thin legs, such as hairpin legs, creating an intriguing contrast. Others may prefer a very slim ¾" thick table top on a geometric table base, for a "floating" look. Popular contemporary style legs include Hairpin, McCobb, Wegner, Juhl, Foursquare, and Industrial Metal.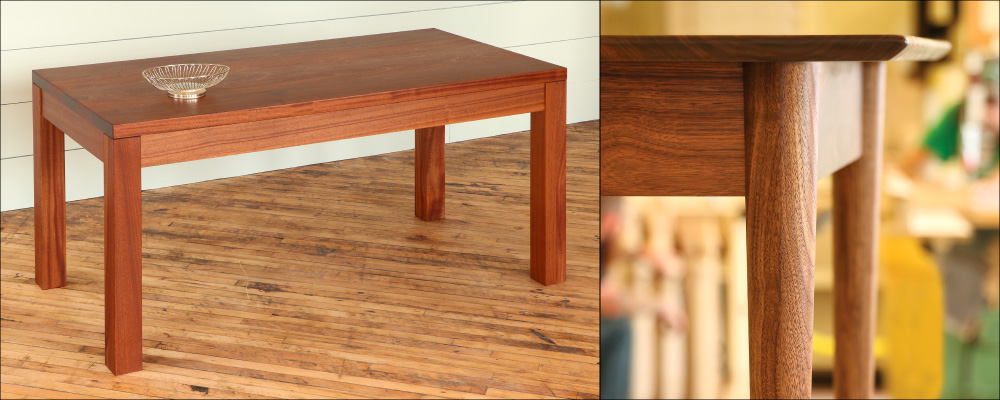 The bold Parsons style dining table, left, looks well balanced with a hefty 1 3/4 inch top. Other contemporary styles such as the McCobb, right, prefer a lighter touch.
Transitional
These styles, as the name implies, try to capture the best of both worlds. Classic elements and craftsmanship are combined with the simpler and cleaner lines of contemporary furniture. They convey an inviting, casual lifestyle. Transitional styles vary greatly, but typically favor table top thicknesses in the mid-range, from 1" to 1 ¾". Not excessively thick or thin, but well-proportioned to the interior space. Larger, more rustic pieces may work well with a thicker top. Country, Farmhouse, Tavern, and Arts & Crafts are considered transitional styles.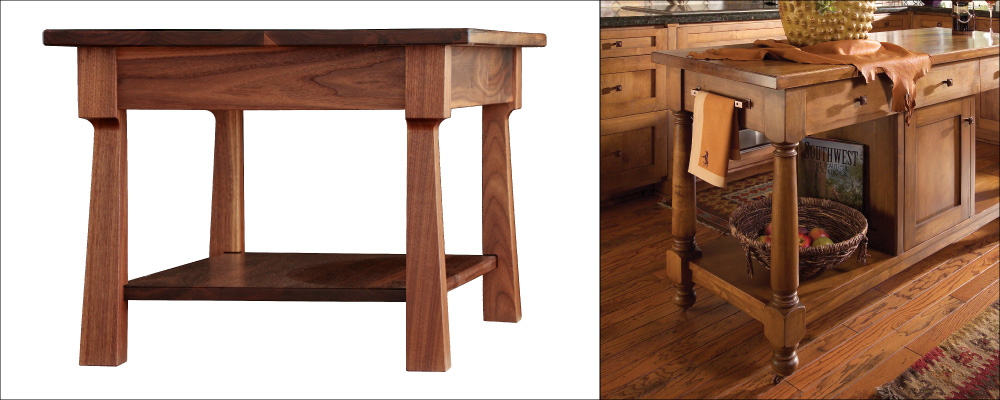 Transitional tables work well with medium thicknesses, tavern style tables and kitchen islands favor thicker tops.
Keep scale in mind
Oversize furniture has bigger proportions, so it demands an oversize top for optimal visual balance. If your table is meant to fit many people, a thicker table top will look and perform better. A smaller table doesn't need to be as thick. As you travel through your day, be aware of the top thicknesses around you. Use a tape measure to compare the top thicknesses of your existing furniture. A mere ⅛" difference in top thickness makes a big difference in the visual weight of the table. If you prefer a consistent design environment, select a top that complements furniture you already have.
Consider leg width
The human brain subconsciously weighs and measures everything that we see. If something doesn't look right, it doesn't feel right. In the case of tables, the brain will tell us when the balance between the leg width and top thickness is off. A dining table with 4 ½" wide legs and a ¾" thick top will feel wrong and imbalanced. Put those same wide legs under a 1 ¾" thick top, and everything falls into place.
For optimal visual balance, match the thickness of your top with the scale of your table legs. If you have table legs on the slimmer side, you will generally want a slimmer top to match. This will create a balanced look. Likewise, with legs on the wider side, you will find that a thicker top looks more harmonious.
The bottom line? Measure, measure, measure!
While we wish we could provide specifics on the correct top thickness for each size and style, the fact is that appropriate top thickness varies widely. Our best advice is to measure several tables you like. Ultimately, only you can decide what table will look best for your project.
If you'd like more guidance, please give us a call at 1-800-748-3480.
Have fun with your project!
-Matthew Burak