If you have been wondering how to find the perfect attachment system for removable table legs, then you are in good company! More people than ever are trying their hand at building tables for their homes and offices. Whether you are a professional woodworker who is migrating into the furniture industry, or a do-it-yourself homeowner who is always ready for a new project, the path to a beautifully crafted table begins with a well-crafted attachment system for table legs. Below is a look at the most popular types of attachment systems for removable table legs and the best way to ensure your satisfaction with your purchase.
Types of Attachment Systems for Removable Table Legs
Many people are surprised by the sheer number of removable table leg options available. Selecting the best type of detachable leg requires consideration of your table size, table top weight, and your desired height. Additionally, it is important to consider the setting where the table will be used before choosing your leg type. For example, wood table legs would likely be a better fit for a farmhouse table or harvest table while metal table legs would be a more appropriate choice for an industrial setting. The five main types of detachable table legs and their uses are as follows:

1. Legs With Metal Top Plates
This type of table leg is the cheapest, which has enabled it to gain some traction among customers who are exclusively focused on price. Top plates are straight or angled, and function best with small or low tables with legs that are no more than 25" tall.
Due to an increased risk for quality problems, TableLegs.com recommends that our customers consider one of the many styles outlined below. Your safety and satisfaction are our top concerns, and we are happy to speak with you about alternative system that will meet your needs.

2. Legs With EasyBase
Table legs with EasyBase are a popular choice among customers. Woodshop News describes the EasyBase corner block system as a way to allow woodworkers to "build freestanding, strong, heirloom-quality table bases in under 10 minutes with no clamps or glue". Simply turn the table aprons upside down on your floor and enjoy assembly that is as easy as 1-2-3:
Step 1: Attach the EasyBase to the legs loosely, threading the bolt into the rivets at the top of the leg.
Step 2: Install the legs by sliding the notches at the top of the leg into the tabs on the apron's corner.
Step 3: Use the Allen key provided to secure the legs to the base.
Legs with EasyBase can also be disassembled quickly for easy transport and storage. There are no clamps to remove or keep track of, and no messy glue to clean up. Simply remove the legs and store them together with the supplied Allen key for use again in the future. Here are a few other standout features of our legs with corner blocks and EasyBase system:
100% Premium Wood Base: The EasyBase system is crafted from 100% premium solid wood that will stand the test of time.
A Secure Interlocking System: Corner joints are aligned using mortise and secured with the system's interlocking EasyBase.
Versatility: The uses of legs with EasyBase go beyond dining tables. They are also used for desks, benches, and coffee tables.
A Wide Selection of Styles: Choose legs crafted in styles such as Farmhouse, Sheraton, Danish, Traditional, and Contemporary.
Finish: Choose from legs that are unfinished or finished using non-toxic Monocoat Natural Oil to enhance durability and beauty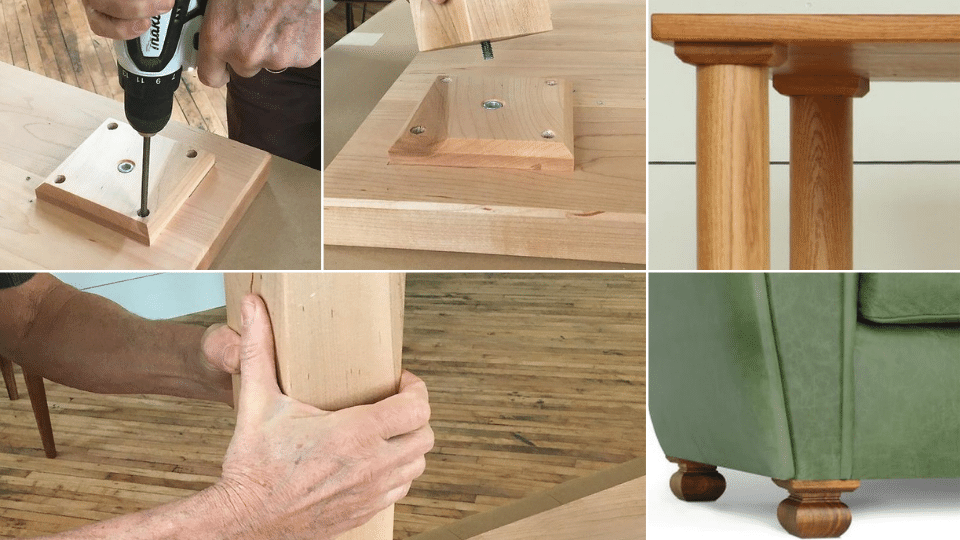 3. Legs With Wood Mounting Blocks
This style of removable table leg is an excellent choice for apronless tables and work desks. Whether you are crafting a large conference table or a small computer desk, you can use table legs with wood mounting blocks to deliver the sturdy support you're seeking. Within a matter of minutes, you can build a conference table, dining table, or breakfast bar. Some of the key benefits of wood legs with mounting blocks are as follows:
Affordable: Wood legs with wood mounting blocks combine to offer an inexpensive solution for cost-conscious DIY builders.
Adaptable: You can also use our wood mounting blocks to attach furniture feet under your couch, dresser, bed, or favorite cabinet.
Round or square styles: Mounting blocks are an especially great option for our round or Foursquare table legs.
Easy to paint: Our wood mounting blocks and legs enable you to make a colorful splash by applying a coat of your favorite color paint.
4. Removable Angled Table Legs
Also known as "splayed table legs", angled table legs can add a charmingly relaxed feel to your home, business, or meeting place. They can be found in virtually any setting, but are often found in settings with mid-century modern decor. Removable angled legs are typically attached with one or more angled cleats designed to provide robust support to your tabletop. You can choose from a variety of options, including the following:
Wood or Metal Legs: You can choose from unfinished wood legs or metal legs in a variety of finishes such as black steel and antique brass.
Height and Width: We offer angled legs ranging from 14" to 33.9" with leg widths up to 2.49".
Uses: Our removable angled legs are often used to make coffee tables, modern dining tables, nightstands, casual desks, and dressers.
Leg Design: Most removable angled legs are available in tapered or hairpin designs.

5. Removable Metal Table Legs
This type of table leg is a good option for customers seeking a modern or industrial flair. In addition to being easy to install with a few screws, our removable metal table legs are available in a variety of attractive metal finishes to complement your decor. Further, consider whether you wish to add a custom wood tabletop or recycle an existing tabletop, our removable metal legs are designed to support the sturdy table top of your choice. Here is a look at some of the customizable features we offer:
Finish: You can choose from a variety of gorgeous metal finishes such as satin stainless, black steel, antique brass, and hammered brass
Height and Width: We offer metal legs ranging from 14" to 42" with leg widths ranging from 1" to 2.49".
Uses: Our removable metal table legs are highly versatile and great for basic round tables, gaming tables, or a DIY camper table.
Leg Design: Popular designs include tapered, hairpin, and square four steel kitchen legs with optional casters.
In case you are wondering How To Make Wooden Table Legs, you will be delighted to know that you can actually view the manufacturing process in person. If you are a hands-on learner, then you can contact us to schedule a visit. In addition to touring our manufacturing facilities, you can learn about the many custom designs we offer and witness our quality control process.
Customized Options Available
While the table leg categories above encompass the majority of table leg types, we realize you may have a unique table leg style in mind that falls outside these categories. If this is the case, simply reach out to us and tell us about the design you have in mind. We are known for our ability to carry out our customers' visions and have even been recognized by the DIY Network for our expertise with custom projects:
"TableLegs.com is exactly what it says it is, offering a wide variety of table legs and furniture feet, even turned bedposts and other building materials. The company also offers custom projects to suit. I found them when I was looking specifically for table legs that were mid-century modern." - Emily Fazio, DIY Network
Finally, there is sometimes no substitute for a personal learning experience. If you have questions about the specific steps used to build a set of table legs, you will be pleased to know that you can view the manufacturing process in person. Simply contact the TableLegs.com team to schedule a visit. In addition to touring our manufacturing facilities, you can learn about the many custom wood products we offer and witness our quality control process.
The Key to Your Satisfaction With Removable Table Legs
As described above, there are many different types of table legs available. But not all table legs are created equal. The key to your satisfaction with your purchase is to select a trusted table leg manufacturer in the USA who offers a 100% quality guarantee. When you purchase from an experienced, quality-minded manufacturer, you can rest assured that you will receive the support you need before, during, and after your purchase.
As America's most trusted table leg designer and manufacturer, TableLegs.com is dedicated to providing you with the highest quality of product and service. For over 20 years, Matthew Burak and the TableLegs.com team have delivered superb craftsmanship and outstanding customer service to homeowners and custom table manufacturers. To discover why customers across the globe turn to us for all of their table leg needs, we invite you to contact us today. We look forward to becoming your trusted table leg provider!