We guarantee that our products will hold a reasonable amount of weight when used for their intended purposes. Any of our table legs can withstand many hundreds, even thousands of pounds of downward pressure. However, accidents can happen when the shearability is not taken into account.
We define shearability as the extent to which a given leg and its attachment can withstand sideways pressure, rather than downward pressure. With thinner legs or legs that are poorly installed, a well-placed kick or a rough shove can fracture or break the leg attachment. Due to the wide variety of materials, applications and contexts in which furniture is used, it is important to use best judgement on a case by case basis.
If you are concerned about strength, particularly shear resistance—forces that come from the sides, such as dragging a table across the carpet—we offer these suggestions: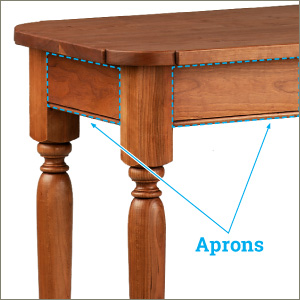 1. Consider table aprons
The use of mortised legs and tenoned aprons provides additional shear resistance over other attachment methods, due to the interlocking joinery. Aprons also add to the overall sturdiness. Consider purchasing a TableLegs.com exclusive EasyBase™ system featuring interlocking joinery, which requires no glue or extra tools and assembles/disassembles in less than 5 minutes.
.
.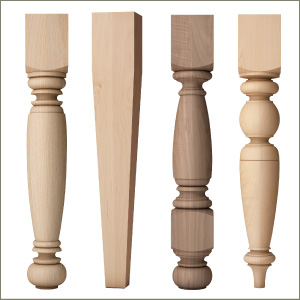 2. Consider thicker or stronger legs
Dense hardwood legs are much stronger than pine legs, and thicker legs are stronger than thin legs. It's always a safe bet to choose larger hardwood legs for thick wood or stone tops that are exceptionally heavy.
.
.
.
.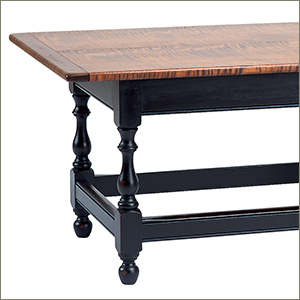 3. Consider a stretcher base
Since the days of yore, stretcher bases have been widely used, especially in tavern, bar and pub tables. This addition provides a great amount of stabilization to the frame and is a nice design feature. If you expect frequent leaning or bumping, you might like to add these to your table.
.
.
..
.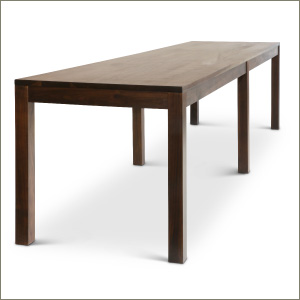 4. Consider adding legs
Longer, six legged tables are stronger and more robust than four legged tables, and four legged tables are stronger and more robust than three legged tables. Each leg helps disperse the weight and can also reinforce the base.
.
.
.
5. Consider the attachment method
Not all attachments are created equal. Metal Plates ( straight and angled) are appropriate for lighter applications but have low resistance to shear and downward pressure. They are suitable for coffee tables, end stands, and other types of lighter, low-weight bearing furniture. Wood Cleats ( straight, angled and single) and Mounting Blocks are highly versatile and offer greatly increased support, suitable for anything from the shortest bun feet to the tallest bar legs.
Mortise and tenon joinery, found in traditional bases and TableLegs.com's exclusive EasyBase™ system , offers the greatest support out-of-the-box.
For direct attachment products like our metal legs and feet , the main factor is the density of the top you are attaching to. Use only the included screws—shorter screws will not provide adequate strength. Hairpin legs are a unique situation—2 rod Hairpins are very strong, but will get "springy" with heavier loads. For anything larger than a desk, opt instead for the 3 rod Hairpin legs.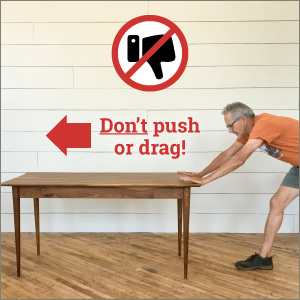 6. Most importantly, lift, don't drag
We have lived and worked around a lot of furniture. There is one rule we unconditionally abide by – always get help when moving furniture. Trying to lift it alone or drag it over the floor can weaken the leg attachments and result in damage. If you need to move it around the room often, consider finding suitable caster wheels to make it easier and safer to move.
We are just a phone call away! If you need help with making a stronger table, our creative and knowledgeable customer service representatives will help you figure out exactly what you need.
Contact us Monday-Friday 8AM-5PM EST at 1-800-748-3480
Or email anytime at legs@tablelegs.com